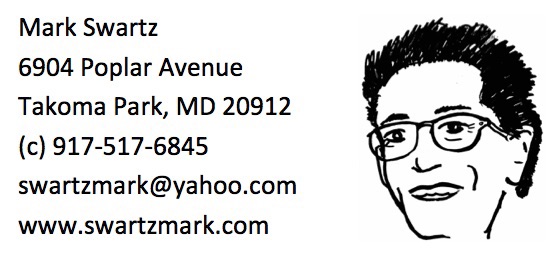 swartzmark
President (2011– )
Superior print and electronic communications not only supply information but also tell stories, shape perception, and drive support. Leaders and experts work with me on compelling messages for members, donors, investors, the press, and the general public.
See my LinkedIn profile.
The Lever Fund
, a new grantmaker to "fight poverty right here" in the National Capital Region
Co-founder (2013– ); Managing Director (part time; April 2018– )
EXPERIENCE
The Corcoran Gallery of Art and College of Art + Design
, Washington, D.C. Director of Development Communications (2011–13)
* Wrote press releases and marketing materials for the Gallery; recruitment brochures for the College; and presentations, talking points, and correspondence for the major gift officers
* Collaborated with board and senior leadership on "Creative Exchange" visioning document as well as sensitive communications during a period of intense scrutiny
* Created and managed the Corcoran's Tumblr and blog; engaged Behance (an Adobe company) to create a platform to showcase the work of faculty, students, and alumni.
Center on Budget and Policy Priorities,
Washington, D.C. Senior Writer, External Relations (2010-11)
The Robin Hood Foundation,
New York, NY. Senior Manager, Communications (2006–10)
* Supported the organization's fundraising success: four consecutive years of $100M+ in donations and grants to fight poverty in New York City; 100% increase in donors
* Identified and developed powerful stories to illustrate the organization's impact
* Managed staff of five, which handled marketing, communications, and donor relations
* Wrote, edited and oversaw design and production of donor communications: print publications, appeal and acknowledgment letters, e-mails, and web content
The Museum of Modern Art,
New York, NY. Marketing/Development Departments (1999–2006)
* Wrote copy for print and radio ads and brochures; devised slogans "What's your favorite…" for 2006 public service announcement; "Manhattan is modern again" for 2004 reopening campaign; and "Modern art, new address" for 2002 relocation
* Wrote and coordinated production of development materials for $800M capital campaign
* Wrote and edited press releases and articles for member magazine

EDUCATION
The University of Chicago, MA, Art History
The University of Michigan, BA, English Literature
ADDITIONAL WRITING
Two published novels, Instant Karma (2002) and H2O (2006); co-authorship of two-volume reference books on art for middle and high schoolers; and articles, essays, and reviews in The Awl, The Village Voice, Chicago Reader, The Believer, Bookforum, Salon, and other publications